Midget Car Specifications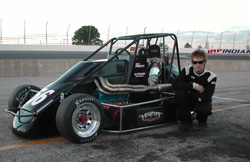 Combine an open cockpit and upright seat with a small lightweight chassis, and then bolt on as much horsepower as you can squeeze into a compact engine. The result is a pure racing machine built for heart stopping, wheel-to-wheel action. These cars are at home on both paved and dirt surfaces.
Midget racing dates back to the 1930's, and the basic concept has always been the same. Place the greatest amount of power on the smallest frame possible and put on an exciting show. The small size of these machines, combined with their power-to-weight ratio (2.5 pounds per horsepower), makes them perfect for oval tracks that are .5 mile and smaller in length. But, turn them loose on a larger track, and the speeds can reach over 150 mph, making them attractive for almost any racing facility of 1 mile or less.
USAC Midgets must weigh a minimum of 900 pounds without the driver and are limited to a wheelbase of 66 to 76 inches. Typically a midget engine can produce between 325 and 350 horsepower. For the mechanically minded, one of the highlights in USAC Midgets is the wide variety of engine designs. Power emanates from normally aspirated, internal combustion, four cycle, piston type engines with a maximum of six cylinders. All engines are fuel injected and burn straight methanol. From those basic guidelines, some of the most creative engine builders in racing have placed their mark on the sport.
Although the cars are small, the costs associated with midget racing are not. A basic car ready to race can cost between $40,000 and $60,000 without any extras.

USAC Midget Car Facts
| | | |
| --- | --- | --- |
| Weight | | 900 pounds minimum, without driver |
| Chassis | | Tubular 4130 aircraft steel; minimum 1 3/8 inch O.D. and .095 wall thickness |
| Horsepower | | 325 to 350 |
| Engine | | Normally aspirated,internal combustion, four cycle, piston type with a maximum of six cyclinders. The most popular design has 166 cu. ins. (2721cc) |
| Fuel | | Methanol |
| Capacities | | Fuel, 28 gallons minimum Oil, 11 quarts avg. |
| Speed | | Fastest official lap average is 139.265 mph set by Ryan Newman at Pikes Peak International Raceway, June 7, 1997 |
| Wheelbase | | 66 inches min., 76 inches max |
| Overall Width | | 65 inches maximum |
| Overall Length | | 10 feet average |
| Overall Height | | 57 inches avg. to top of roll cage |
| Suspension | | Solid front and rear axels with torsion bar or coil spring suspension |
| Wheels | | Aluminum or magnesium, 13 inches in diameter. Right rear 10 inches wide, all others 8 inches wide |
| Tires | | Bias-Ply racing tires |
| Brakes | | 3 or 4 wheel discs |
| Driveline | | Direct drive without clutch or transmission. Quick change gears are behind the rear assembly. |
USAC Midget racing has been a proving ground for some of the nation's great racing talent, due in part to the variety of tracks and the quick reflexes necessary for this type of racing. Former National Midget Series standouts Jeff Gordon, Tony Stewart, Billy Boat, Ryan Newman, Jason Leffler and John Andretti have turned a spotlight on the series as a source of racing talent. Other notable drivers who have made their way through the USAC Midget ranks include A. J. Foyt, Mario Andretti, Johnny Rutherford, Parnelli Jones and Mel Kenyon.